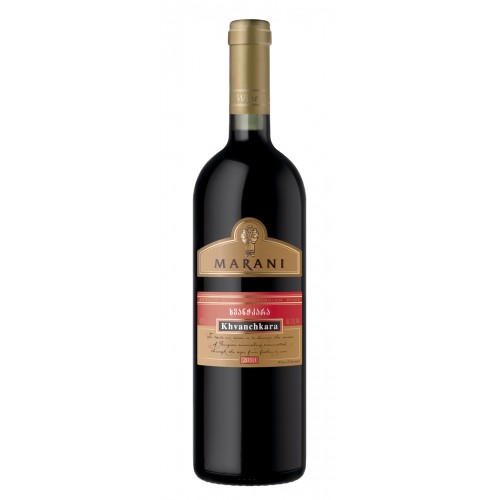 Georgian red semi-sweet wine Telavi Marani Khvanchkara 2018
Stock:

In Stock

Model:

SWA121318
Country: Georgia
Color: red
Sugar: Dry
Volume: 0.75
Grapes: Alexandrouli, Mujuretuli
Manufacturer: Marani
Region: Racha-Lechkhumi
Stylistics:
One of the most famous and popular semi-sweet wines in Georgia, Khvanchkara is a blend of two grape varieties, Aleksandrouli and Mujuretuli. This is a wine in which you will find notes of bright ripe berries (raspberries, cherries, strawberries), and exquisite spices and, most importantly, a balance of flavors, where sweetness is combined with acidity and forms a unique character for which Khvanchkara is so appreciated.
This is a semi-sweet wine, the production technology of which is completely natural. Unlike many sweet wines, concentrated grape must is not added to Khvanchkara and the sugar level remains high by stopping fermentation by refrigeration. This method is directly related to the region in which this wine is made. In the Racha-Lechkhumi region, located in the foothills of the Greater Caucasus, the temperature at night hours can drop quite low and the process of wine fermentation in large amphorae (qvevri) buried in the ground stops for this time. Thus, the sugar in the wort is not completely fermented, but remains in the wine in the form of that very pleasant sweetness, because of which Khvanchkara is so appreciated.
The microzone in which this unique wine is made is very small and the grape harvest from which it is produced is also small. All this makes Khvanchkaru a rather rare wine and, unfortunately, is the reason for the emergence of a large number of cheap fakes.
We offer you one of the best examples of this fine wine and invite you to enjoy it, both in combination with blue cheeses, which will favorably emphasize its bouquet and sweetness, and in a pair with sweet and fruity desserts.