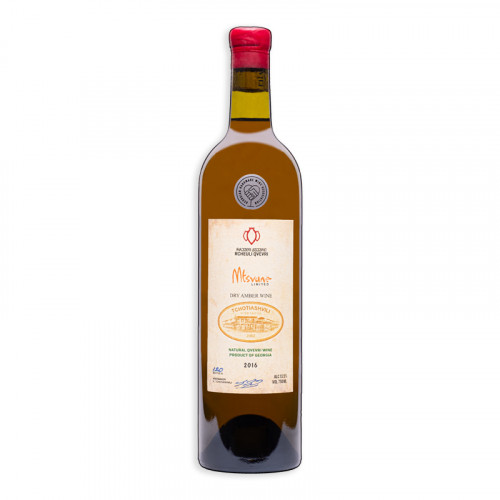 Georgian orange dry wine Tchotiashvili Mtsvane
Stock:

In Stock

Model:

4860108420096
Country: Georgia
Color: Orange
Sugar: Dry
Volume: 0.75
Grapes: Mtsvane
Manufacturer: Tchotiashvili Family Vineyards
Region: Kakheti
Stylistics:
Wine from a young, but already experienced Georgian winemaker Kakha Chotiashvili, who received education and experience in German wineries and returned to Georgia to make wine from local grape varieties according to the ancient Kakhetian winemaking methods. The winemaker's philosophy assumes the absence of the use of any chemical additives, both in the process of growing grapes and during vinification: no added yeast, clarification or filtration. Of course, this assumes the maximum participation of the winemaker at all stages of production and the result is confirmed by its own signature on each bottle.
Grapes of one of the oldest and most valuable wine varieties Mtsvane from their own vineyard located in the Kakheti region. Vinification and aging in clay amphoras (qvevri). The wine has aromas of honey and herbs, earth, dried fruits, in the taste - pear, citrus fruits, dried figs and apricots.
In order to fully appreciate the taste and aroma of orange wines, we do not recommend chilling them below 18 degrees and opening them some time before use.