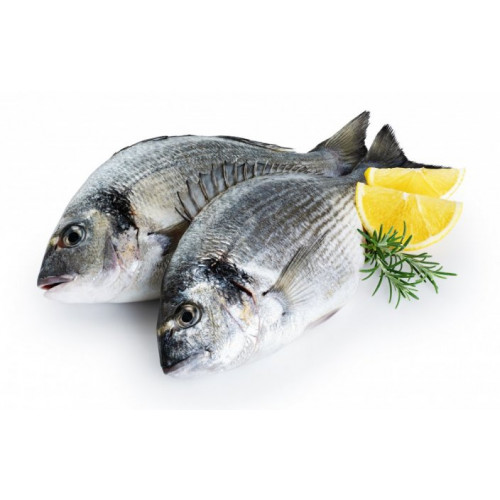 Dorade Royal fresh, 2 pcs. each about 600g
Stock:

1000

Model:

Nash_80400
This fish is a storehouse of nutrients and trace elements. It is rich in iodine, lithium, fluorine, bromine and iron. According to scientists, regularly eating gilthead meat can prevent thyroid diseases.
A lot of fish and magnesium with phosphorus. At the same time, all minerals are so well balanced that the human body absorbs them easily and quickly.
However, the most valuable thing in Dorado is the abundance of healthy protein. And, of course, taste: slightly pinkish meat has a minimum of bones, has amazing taste and awesome aroma. In a word, culinary aesthetes consider sea bream with its slightly sweet taste an excellent delicacy.
You can cook dishes according to a huge number of recipes and in different ways - fry, bake whole in coals or on the grill. The fish is fried for 1.5 - 2 minutes on each side, until it acquires a pearly hue.
It must be remembered: prolonged heat treatment is not suitable for this fish. Dorada will reveal its taste even more if served with olives and wine sauce. Rice and vegetables are an excellent side dish for fish. Be sure to try the sea bream with boiled asparagus shoots. In Spain, dorada, which is baked in salt, is especially popular.
Доставка
Delivery to all towns in the Netherlands
No
Specifications
Country
Netherlands