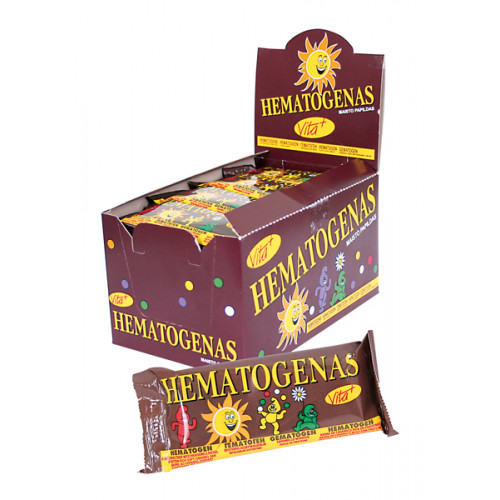 Hot
Protein-containing toffee bar "Hematogen", 50g
Hematogen is a drug intended for the prevention and treatment of iron deficiency anemia. The hematogen has a dark brown color, a dense and plastic structure, a specific taste and aroma.
The history of the hematogen began in 1890, when the Swiss doctor Gommel produced a mixture containing iron to stimulate hematopoiesis. The basis for the preparation of the mixture was fresh bovine blood and egg yolks. Over time, the mixture turned into a solid substance and began to be sold in pharmacies in the form of a modern hematogen.
The calorie content of hematogen is 354 kcal per 100 grams of product.
The composition of the product must contain albumin black food or powdered hemoglobin. Hematogen is produced from specially processed cattle blood, which contains heme iron and vitamin A. For normal absorption of iron by the body, a special form of iron containing protein (calorizator) is required. The hematogen contains exactly this type of i