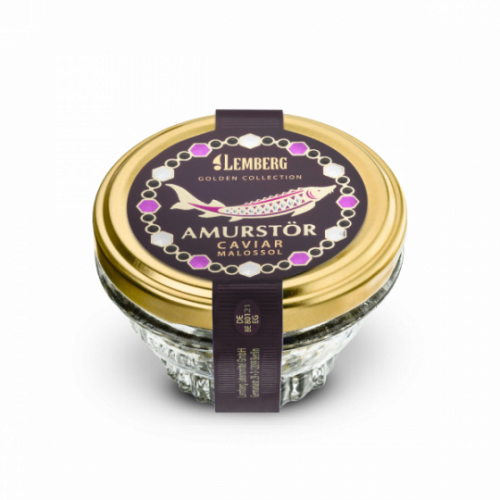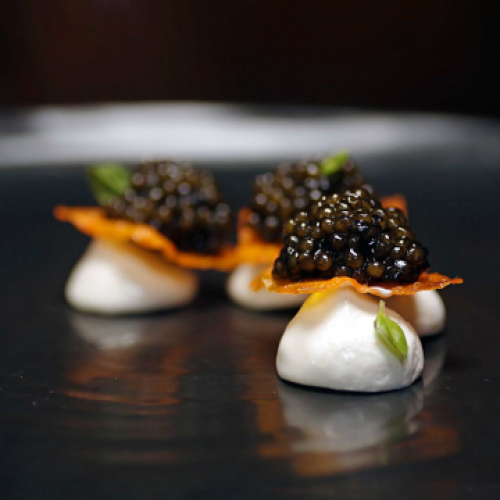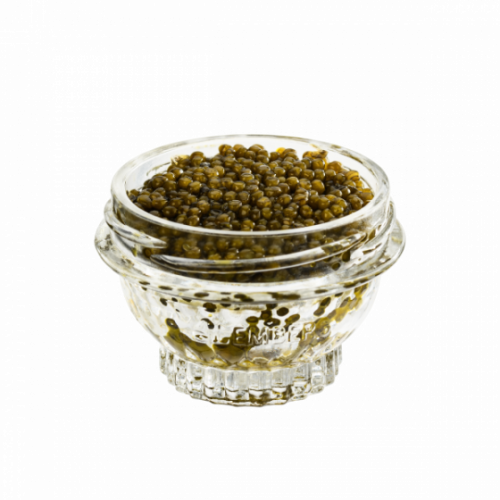 Black, Amur sturgeon caviar Lemberg, 50g
Amur sturgeon caviar shimmers with all possible color shades from golden chestnut to dark brown. Shiny, granular caviar of the Amur sturgeon with delicate, but at the same time elastic eggs has a delicate aroma and a creamy-nutty taste with a slight natural bitterness. This delicacy is distinguished by medium-sized grains with a diameter of 2 to 2.5 mm. Salted caviar (MALOSSOL), only 35 grams per kg.
The Amur sturgeon (Acipenser schrenckii) is very close to the Siberian sturgeon and is also one of the species from the sturgeon family. The weight of an adult fish ranges from 20 to 50 kg. In the history of Russian fishing, there are references to fish weighing up to 160 kg. Females begin to spawn at 11-14 years of age, Amur sturgeon spawns no more than once every 4 years. Therefore, Amur sturgeon caviar is a rare and very valuable product. It is customary to serve caviar on the table, both as an independent snack, and on crackers, toasts or with pancakes. When preparing receptions in European countries, 1 ounce of caviar is calculated for each guest - this is approximately 30 grams of the product.
If caviar is planned to be served in its pure form, it is customary to put it in a glass or porcelain caviar dish. Be sure to have a small spoon of the same material or of mother-of-pearl. Chilled caviar has the best taste, for this reason the caviar is placed in a container with ice. The delicacy looks impressive in combination with potato chips or halves of boiled quail eggs.
Доставка
Delivery to all towns in the Netherlands
нет