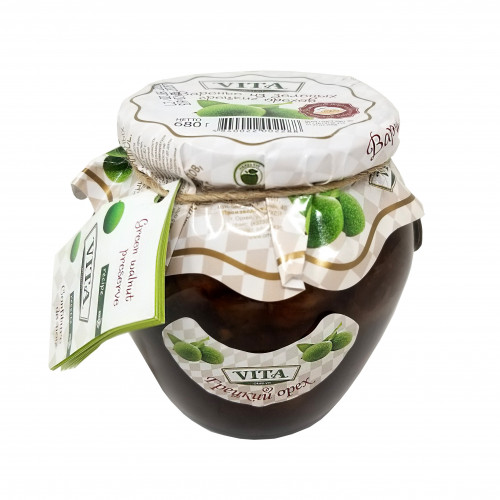 Young walnut jam Vita, 680g
Jam is made from young walnuts, as they contain many useful substances - vitamins C, B and PP; resinous substances, glycosides and alkaloids, which contain a lot of iodine. It is essential for the normal functioning of the thyroid gland. A cup of tea with this jam will help with vitamin deficiency, strengthen the immune system and help with various health problems:
helps well with colds and acute respiratory viral infections;
cleanses the liver;
a few spoons of green walnut jam before bed will help with insomnia;
has a calming effect;
recommend such jam for diseases of the cardiovascular system and hypertension;
useful substances that jam is rich in will prevent the formation of cholesterol plaques.
Young walnut jam improves brain function, so you can eat a few spoons when work requires increased concentration and memory.