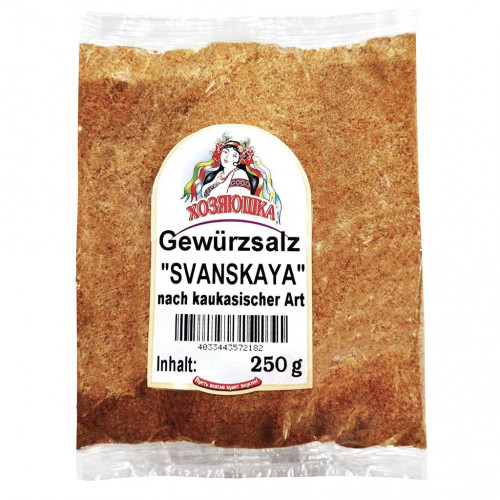 Mix Khozyaushka "Svan salt" with spices, 250g
"Svan salt" is a mixture of various herbs and ingredients that make up a harmonious bouquet. It consists of Imeretian saffron, chili pepper, coriander, utskho-suneli (blue fenugreek), garlic and gitsruli herb, which grows exclusively in Svaneti. Svan salt is widely used today for cooking Georgian and European cuisine at home as a spicy seasoning for:
first courses;
vegetable snacks and salads;
fish and meat dishes;
various side dishes;
sauces and marinades.
It can also be used for pickles and home preservation. This seasoning is beautifully revealed in ojakhuri - a traditional family dish of the proud Georgian people, kudbari - a flatbread with meat filling, stewed and baked vegetables. You can find even more recipes for national Georgian dishes with the addition of Svan salt here. But you need to add this seasoning with caution, since there is a risk of oversalting the dish or making it too spicy, clogging the taste of the main product with spices.