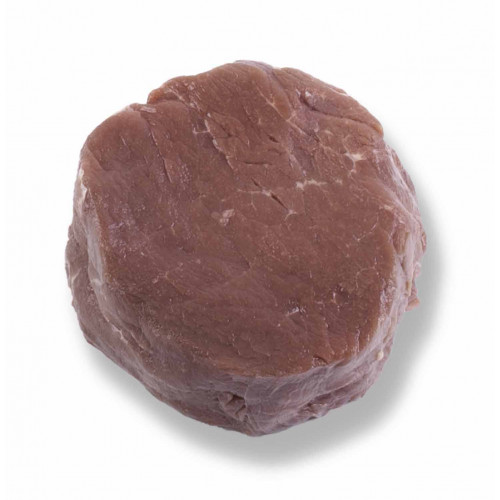 Tournedo beef steak, 500g
Stock:

In Stock

Model:

A1262
Tournedo is the closest relative of Filet Mignon and Chateaubriand steaks. The steaks are cut from Tenderloin tenderloin, from the side of its thin edge. A large section of Tournedo is cut into small medallions and served in portions. But serving a whole steak is also acceptable. Unlike Chateaubriand or Mignon, this steak is "put" on the plate, serving in the form of a "tower". Full length steak is allowed. It is often decorated with cheese chips, truffle oil, exquisite sauces. As you already understood, the dish is not cheap.
Tournedo is obtained from a trimmed tenderloin obtained from bulls of meat breeds, whose age does not exceed 3 years. The younger the animal was, the softer and more tender its meat. The most delicious marbled meat is meat from grain-fed animals. And the process of wet fermentation, aimed at softening muscle fibers, brings it to taste perfection.
Tournedo steak is a lean meat. If it has fat streaks, then there are very few of them. This steak is appreciated precisely for its leanness and delicate taste. The texture of the meat is the most delicate, since the muscle fibers are very thin. The only drawback of this cut is that it tastes too soft. It is mainly ordered by women or gourmets who like the unusual serving of the steak.
It is important to cook a medium rare steak. Otherwise, consider that you spoiled the steak. A delicate pink heart and an abundance of juice - that's what the right beef Tournedo steak is.
Prepare it without marinades. Only with base spices, a little oil. Before frying, the meat is thoroughly cleaned, removing all films. Tournedo steaks are cut across the muscle fibers - it's meat law.
Next, the meat is shaped. For this, use culinary thread or homemade foil strips. In a professional kitchen, the meat is additionally wrapped in strips of bacon and only after that is fixed with a thread. Frying the bacon fills the meat with juices and a haze aroma.
Prepare a tenderloin steak in a well-heated frying pan, frying thoroughly on all sides. Do not salt or pepper. This is done ready-made when the steak is resting.
Tournedo beef steak is served with classic French sauces, light green salads, potato gratin or boiled asparagus. An obligatory attribute is a glass of good red wine.
Доставка
Delivery to all towns in the Netherlands
No