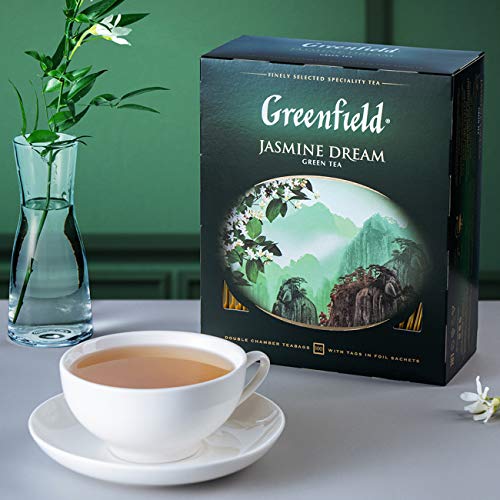 Green tea Greenfield "Jasmine Dream", bags 100 x 2g
The airy aroma of jasmine emphasizes the pure refreshing taste of the noble green tea from the Yunnan province. Spring mood comes with Greenfield Jasmine Dream.
Greenfield offers great aromas of classic black and green tea and exquisite tea compositions that combine tea leaves with fruits, berries, flower petals and aromatic herbs. Each variety is a small daily discovery that allows you to admire an endless variety of teas. Feel all the beneficial properties and enjoy the moment of relaxation and pleasure!
Tea from the GREENFIELD collection is a real harmony of aroma, color and taste, allowing you to experience a moment of pleasure with a cup in hand. The tea bags are packed in custom-made foil envelopes to help maintain the freshness and full flavor of Greenfield tea.