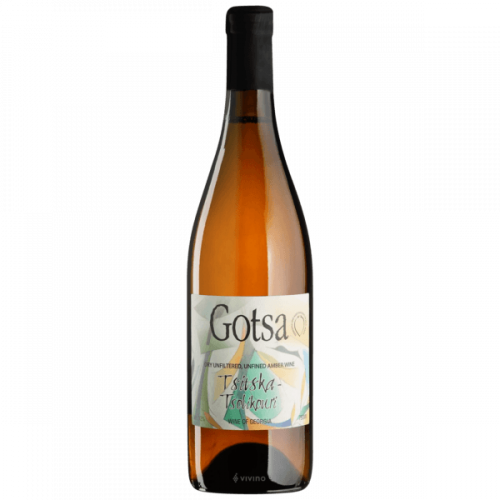 Georgian orange dry wine Gotsa Tsitska-Tsolikouri 2016
Stock:

In Stock

Model:

SWA170716
Country: Georgia
Color: Orange
Sugar: Dry
Volume: 0.75
Grapes: Tsitska, Tsolikouri
Manufacturer: Gotsa
Region: Kartli
Stylistics:
This is an orange wine from the very heart of Georgia, the Kartli region, where the capital of the country, Tbilisi, is located. Its style differs from traditional orange wines, it is lighter, more floral and less tannic than wines from the Kakheti region.
However, it is still an orange (or amber) wine with personality. It also passed aging on the skin, and then it was aged in clay qvevri. The wine is distinguished by the aromas of meadow flowers and pharmaceutical herbs, and on the palate - citrus, pear, apricot, pleasant minerality. This wine is based on a blend of two varieties that are quite rare even for Georgia - Tsitska and Tsolikouri.
This wine belongs to the category of natural (raw) wines, which means that during its production no industrial yeast was added, no filtration and clarification technologies were used, the minimum addition of sulfites during bottling.
Try this wine in combination with Japanese or Chinese cuisine and you will be pleasantly surprised.