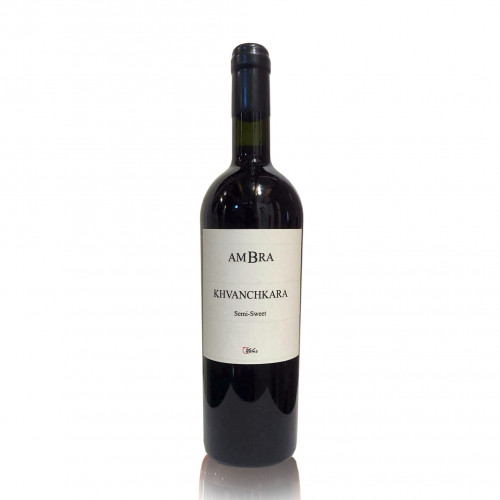 Georgian red semi-sweet wine QvesheniChirime AMBRA Khvanchkara
Stock:

In Stock

Model:

M202024
Khvanchkara AMBRA 2019 (by QvesheniChirime Vinery) Racha, village Bugeuli Ambrolauri Region:
Naturally semi-sweet red wine made from Aleksandrouli & Mujuretuli grapes, both cultivated in the smallest micro zone of Racha, (Village Bugeuli). The wine has a strong, distinctive bouquet with flavours of raspberry and a dark ruby colour. There are only 300 bottles produced of this wine in 2019.
Technical data:
From 102 years old vineyard, cultivated and harvested by hand
Fermented in Qvevri (for 9 days) with skin contact and moved to -4 Ref. tank afterwards (manually removing all crystalized sugar/sediment content through process).
No additives: sugars, aromas, tartaric acids or other chemicals.
Stored in stainless still tank after fermentation for 4 month
Unfiltered (may contain natural sediment)
Minimum amount of sulphides added during fermentation:
SO Free 20 Mg/l; SO Total 115 Mg/l