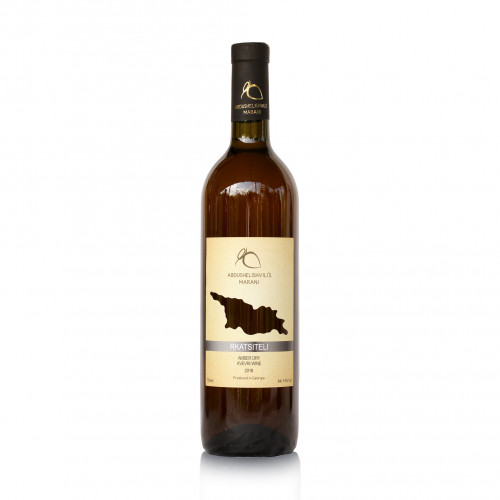 Georgian orange wine Qvevri Abdushelishvili Rkatsiteli 2018
Stock:

In Stock

Model:

M202021
Abdushelishvili Rkatsiteli 2018 /2019 (Kardenakhi):
This natural wine is made by the traditional Georgian (Qvevri) method from Rkatsiteli grapes variety, which is harvested in Kakheti Region (Kardenakhi), Tsarapi micro-zone. Fermented on the skin for 4 months and aged up to 12 month in Qvevri. Characterized by the amber-colour and light tannin's. Awarded by Gold medal in 2019 Qvevri wine competition. Rkatsiteli 2019 have also received gold medal in 2020. 1,500 bottles produced.
Technical data:
Bio viticulture (no chemical/synthetic pesticides or herbicides)
No cultured yeast or any type of yeast is used.
No additives: sugars, aromas, tartaric acids or other chemicals.
Unfiltered (may contain natural sediment)
Fermented and aged in Qvevri up to 12month.
No sulphides added before and during fermentation, sulphides used for bottling only, with total sulphide content 35mg/l.