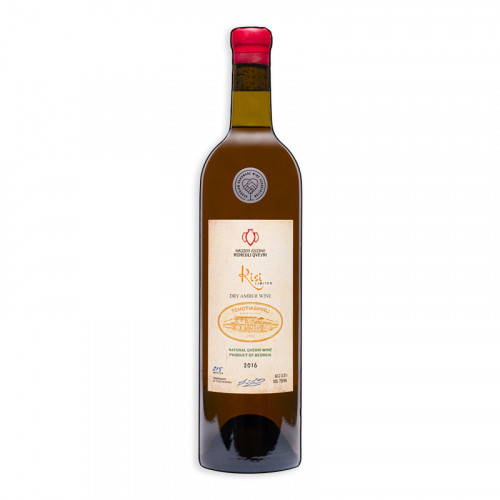 Georgian orange dry wine Tchotiashvili Kisi
Stock:

In Stock

Model:

4860108420089
Country: Georgia
Color: Orange
Sugar: Dry
Volume: 0.75
Grapes: Kisi
Manufacturer: Tchotiashvili Family Vineyards
Region: Kakheti
Stylistics:
A prominent representative of the orange wine style, but treat it with care and attention - it may not be like anything you have tried before.
Unique grapes of the Kisi variety, vinification only with the participation of natural yeast from the skin of berries, maceration on pulp, seeds and ridges in clay amphorae buried in the ground for 7 months. This wine is the result of the work of a young but experienced Georgian winemaker Kakha Chotiashvili.
The wine has aromas of dried apricots and raisins, pharmaceutical herbs, smoke and honey, in the taste of dried fruit compote, black tea, nuts. Quite high acidity and tannins make this wine an excellent pair with Asian dishes, it is not without reason that orange wines have become so popular in Asia.
We highly recommend opening the wine in advance (~ 1 hour) and, if possible, pouring it into a decanter.