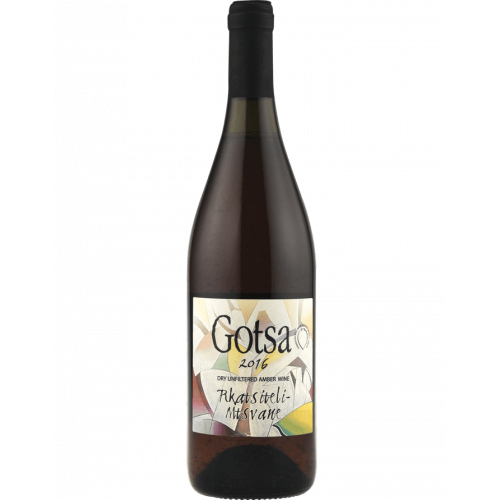 Georgian orange dry wine Gotsa Wine Rkatsiteli-Mtsvane 2016
Stock:

In Stock

Model:

Nash_80054
Country: Georgia
Color: Orange
Sugar: Dry
Volume: 0.75
Grapes: Rkatsiteli, Mtsvane
Manufacturer: Gotsa
Region: Kartli
Stylistics:
Orange wine made from white grape varieties Rkatsiteli and Mtsvane according to traditional Kakhetian technology in qvevri. Fermentation takes place in clay amphoras, completely submerged in the ground in a special winery room - marani. The grapes are pressed and vinified without removing the pulp, seeds and brushes, which gives the white wine a rich amber color, a special taste and aroma.
This wine is distinguished by a multifaceted character, in which notes of nuts and dried apricots, pears and summer meadow grasses, as well as aromas of exotic fruits, orange and grapefruit are guessed.
The wines from the Gotsa winery are classified as natural wines. Natural wine is a wine made with minimal impact on the wine-making process. No industrially produced yeast is added to such wine, sulfites are added in minimal amounts, the wine is not clarified or filtered. This wine has a Demeter biodynamic certificate.
In order to fully appreciate the taste and aroma of orange wines, we do not recommend chilling them below 18 degrees and opening them some time before use.