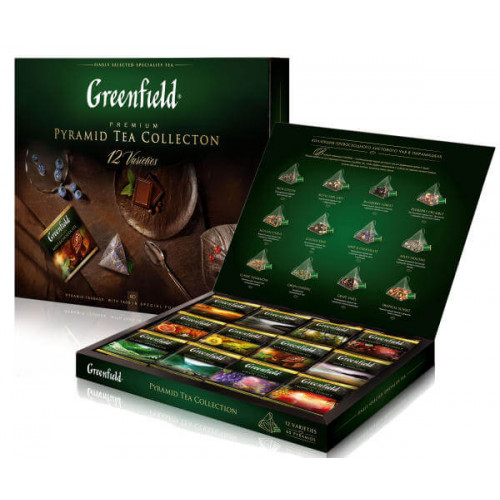 Set of 12 different types of Greenfield tea
Stock:

In Stock

Model:

1241-07-1ЕС
In the collection of greenfield leaf tea in pyramids, you will find varieties that conceal a special magnetism and an exceptional fullness of perfect taste, in which there is not a single random note and each shade is precise and complete. Greenfield offers great aromas of classic black and green tea and exquisite tea compositions that combine tea leaves with fruits, berries, flower petals and aromatic herbs. Each variety is a small daily discovery that allows you to admire an endless variety of teas. Feel all the beneficial properties and enjoy the moment of relaxation and pleasure!
Tea from the GREENFIELD collection is a real harmony of aroma, color and taste, allowing you to experience a moment of pleasure with a cup in hand. The tea bags are packed in custom-made foil envelopes to help maintain the freshness and full flavor of Greenfield tea.
֎ The Greenfield collection includes 12 excellent black and green leaf teas and herbal infusions: Rich Ceylon, Royal Earl Gray, Blueberry Forest, Redberry Crumble, Sicilian Citrus, Golden Kiwi, Mint & Chocolate, Milky Oolong, Classic Genmaicha, Green Ginseng, Grape Vines, Triopical Sunset
֎ The Greenfield collection is packaged in 60 pyramids, each of which is placed in foil envelopes. Foil perfectly preserves the properties of tea, prevents dampness and odors, protects the product from light
֎ The set includes rare varieties of black and green teas from the best plantations of Ceylon, India, Kenya, China and Japan, as well as original tea compositions with berries, fruits, petals and aromatic herbs. A perfect gift for someone important to you, and will be highly appreciated by lovers of high quality teas
֎ Impressive design - absolute appeal for the recipient (s)! 12 of the best gourmet teas. "There should be a certain comfort in everyday life - a more pleasant and softer moment"
֎ To prepare a rich drink, take a tea pyramid or several pyramids and brew with boiling water in a cup or teapot. It is enough to insist 5-7 minutes for the tea leaves to open in a transparent pyramid, forming a wonderful drink that will give pep, great mood and just pleasant moments.