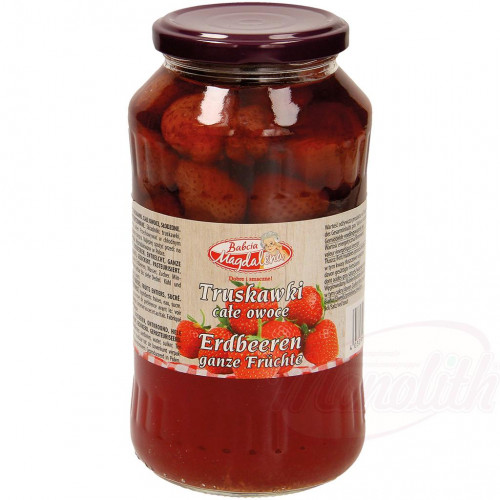 Babcia Magdalena strawberry compote, 720ml
Strawberry compote is a storehouse of vitamins and antioxidants. It has a cleansing effect and is ideal as a tonic drink, especially when cold.
If we look at the composition of the berry, we will see what it contains per 100 grams:
153 mg potassium;
24 mg phosphorus;
42 kcal.
In addition, the pulp contains a lot of pectins, fiber and fruit acids, vitamins C, B and PP. Strawberries are cooked quickly, so the compote retains all the main nutrients in large quantities.
The only caveat to the use of strawberry compote is its high allergy. Therefore, it is not recommended to give it to young children in its pure form, but only in diluted form.
Due to the high content of vitamin C, this drink is useful for colds. It is drunk as tea, in the morning and in the evening, as well as throughout the day.
The most delicious and healthy strawberry compote is obtained if it is not mixed with other fruits. It has a subtle scent that shouldn't be interrupted.
It is also worth noting that this drink is recommended for such health problems. Strengthening the immune system. Vitamin C protects the body from colds, so in winter you can alternate strawberry compote with rosehip decoction.
Specifications
Срок годности